>

CuraMed® (375 Mg) 120 Softgels
CuraMed® (375 Mg) 120 Softgels
SKU:
Safe, Studied, Effective.

• BCM-95® Curcumin has been used in 27 groundbreaking, published studies
• The only patented curcumin with turmeric essential oils
• Superior support for a healthy inflammation response†
• Supports liver, brain, heart, and immune health
• Protects cells from oxidative stress and free radicals*
• High antioxidant ORAC value >1,500,000**
• Provides 250 mg of pure curcuminoids per softgel
• From non-GMO turmeric grown without chemicals
The CuraMed® Difference
When compared gram per gram, BCM-95® Curcumin delivers up to 10 times more curcumin to the bloodstream than plain curcumin.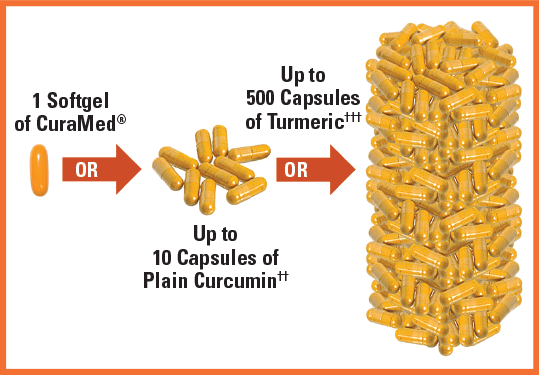 2015 Vity A
ward - Best Antioxidant in the Vitamin & Mineral Category

This is the first award for CuraMed!ed!



*THESE STATEMENTS HAVE NOT BEEN EVALUATED BY THE FOOD AND DRUG ADMINISTRATION. THESE PRODUCTS ARE NOT INTENDED TO DIAGNOSE, TREAT, CURE OR PREVENT DISEASE